With the compliment from Patient Do Manh Hung in Canh Dan year
Guinness record- handed down drugstore to the most number of Genarations in Vietnam
Tho Xuan Duong oriental handed down drugstore would like to send our best wishes to all you guys with full of health and happiness!
I would like to send my heartfelt thank to all of you in both internal and external scale who have always spent big love and trust to ours in recent years.
Ladies and gentlemen
Vietnamese medicine is curing culture of Vietnamese nation, 54 ethnic groups are 54 cultures of advanced curing. Tho Xuan Duong drugstore, the longstanding handed down drugstore of Phung dynasty's family, has made a significant contribution to the field of inheriting and enriching the Vietnamse medicine's tradition. This is the family which includes a variety of talented herb doctors and appointed by the reign of King Hau Le to Quang Trung to make up medicine at the royal medical Institute. This drugstore has been famous during 4 previous centuries and was recorded in the Guinness record - handed down drugstore to the most number of Genaration in Vietnam...
Undergoing a variety of ups and downs in history,Tho Xuan Duong traditional drugstore is always proud of contributing a small part in caring and protecting people's health. In order to promote the treasures of Vietnamese traditional herbal medicine and to fulfill the requirement of a great deal of people, Tho Xuan Duong would like to introduce our love for work, our patriotic tradition and our process on honoring Vietnamese medicine internationally.
I.Tho Xuan Duong – a family including 16 generations treating diseases and saving patients.
The first start-up figure on making up a prescription and saving the patients was Mr Phung Van Duong, also known as Khang Thuy Chan Nhan. He worked for medicine at Te Sinh Duong – the medical Institute under Le dynasty in 1653.His grandchildren came after his profession, in which there were two talented army medical physicians (royal physicians), they were:
1. Herb doctor Phung Van Dong (1713-1763), also known as Duc Tien.He passed high-school finals, holding a high post in the court, promoted to inferior corridor and then hold the position of Thiem Su under Le Dynasty at medical Institute, cum royal physician named Dat Tho Ba.
2. Herb doctor Phung Van Con (1743-1822) was the son of Mr Dong, also knows as Duc Tuyen. He passed young scholar, sevred in army medical corp and was promoted to inferior corridor possition. In 1781, he was appointed to royal medical Institute. In 1782, he held the post of Deputy royal physician. Under Quang Trung King's dynasty (1788-1792), due to the active curing participation in a speedy campaign decimating 2000 Thanh troops in 1789 and his great services rendered to the country, he was nominated to "Glorious tycoon" by Quang Trung King and awarded a pair of Kim Giao chopsticks used for toxic test and golden coin with 4 words enclosed "Highest rank in ongoing dynasty". The chopsticks and golden coin are being preserved and become treasures of Phung's dynasty along with the medicinal tradition of Tho Xuan Duong
 
Through a period of ups and downs of history, they bequeathed a great deal of valuable experiences and great remedies curing for people. His descendants always preserved his profession, reminded of patriotism, compassion and loved the patient as love their acquaintances.
3. Herb doctor Phung Duc Hau is the 14th offspring, former President of Thuong Tin Medical Council, Hanoi City. Tho Xuan Duong drugstore established by him before 1945 was not only a place for curing for people and helping the poor but also a basis for secret revolutionary activities of a number of communist soldiers such as: Mr Do Muoi (former General Secretary of Communist Party of Vietnam), Mr Nguyen Tho Chan (member of Central Party, Minister of Labour) and many other comrades. His family was awarded a "campaign medal" and a degree on "deserved well of the country"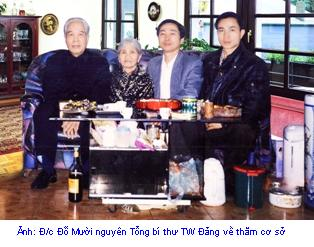 4. Herb doctor Phung Duc Do (the 15th offspring) is the son of herb doctor Phung Duc Hau. He is currently the Chairman of oriental medicine Association in Thuong Tin district, member of Executive board of Hanoi Oriental medicine Association, member of executive board of Thuong Tin Red Cross who has inherited the family's tradition with all his high responsibility for training virtue and skills, inclining to the good and "only taking the work on saving people be his main duty".
5. Herb doctor Tuan Giang Phung – the 16th offspring of Phung's family (the son of Herbalist Phung Duc Do) is currently the heir of Tho Xuan Duong drugstore. Owing to the knowledge obtained from the family, experience studying from 30 domestic and foreign teachers and comprehensive training at Vietnam University of traditional Medicine, herb doctor Tuan Giang Phung not only inherits the family's tradition of 4 centuries running on curing and saving patients, but also brings fame to his family by improving the methods of diagnosing and treating diseases by Vietnamese medicine, implementing the necessary knowledge of Western medicine and making up all medication for curing serious diseases effectively.
Currently, very few families can remain entire traditional medicine as Tho Xuan Duong did. As a result, a record for the title "Tho Xuan Duong – handed down drugstore to the most number of Genaration in Vietnam" with 16 uninterupted generations aged nearly 400 years was established by Vietnam record book center.
II. Diseases examined and treated by Tho Xuan Duong:
• Arthritis: rheumatoid arthritis, degenerative osteoarthritis, cervical vertebrae, lumbar spine, lumbar, painful nerve, muscle weakness...
• Kidney disease: Kidney damage, chronic glomerulonephritis, kidney stone, renal edema, impotence, premature ejaculation, kidney weakness, small live sperm ratio, infertility, enuresis, prostatic fibroma ...
• Liver disease: chronic hepatitis, B hepatitis, cirrhosis, fatty liver, cholecystitis, gall stone...
• Digestive diseases: peptic ulcer, chronic colitis, gastrointestinal disorders, internal and external hemorrhoids...
• Respiratory disease: chronic bronchitis, sputum cough, chronic asthma, laryngitis ...
• Five-senses disease: sinusitis, chronic pharyngitis, media otitis, deaf earing, visual reduction, blurred vision...
• Gynecological diseases: Menstrual irregularities, multiple discharge, metritis, appendage inflammation, ovarian inflammation, stuck fallopian tubes, endocrine disorders, amenorrhea, infertility, uterine fibroids, ovarian cysts ...
• Endocrinology, Metabolism: Diabetes, blood fat, gout..
• Urinary disease: urethritis, cystitis, prostatitis, urinary stones, ...
• Cardiovascular disease: high blood pressure, low blood pressure, cardiac arrhythmias, sequelae of stroke, hemiplegia (paralyzed), coronary insufficiency, narrow valve openings of 2 and 3 leaves, heart failure at level 1 and 2
• Neuropathy: seizures, insomnia, neurasthenia, poor mental power, forgetfulness, paranoia, schizophrenia ...
• Goiter: thyroid function disorders, promote or hypothyroidism, thyroid tumors
• Skin diseases: dermatophyte, psoriasis, plantar dermatosis, leech's nest, ringum, rough black spots, pimples, acne, atopic allergy, nerve dermatitis, vitiligo, dry skin, irritated, the skin wounds slow to heal ....
CANCER AND IMMUNE
III. MISSION AND VISION
Tho Xuan Duong traditional drugstore's objective is to become a reputable and professional healthcare address with Vietnamese medicine method. The effective treatment of patients is the guiding principle for all activities that the drugstore is looking forward. For the purpose of promoting the strength on traditional diagnosis and treatment, Tho Xuan Duong focuses on construction investment, specifically: areas for examining and making up a prescription, general treatment rooms and high-quality therapeutic center. All the stages from diagnosis and treatment to detailed guide on diet regimen have been processed professionally by skilled and experienced doctors.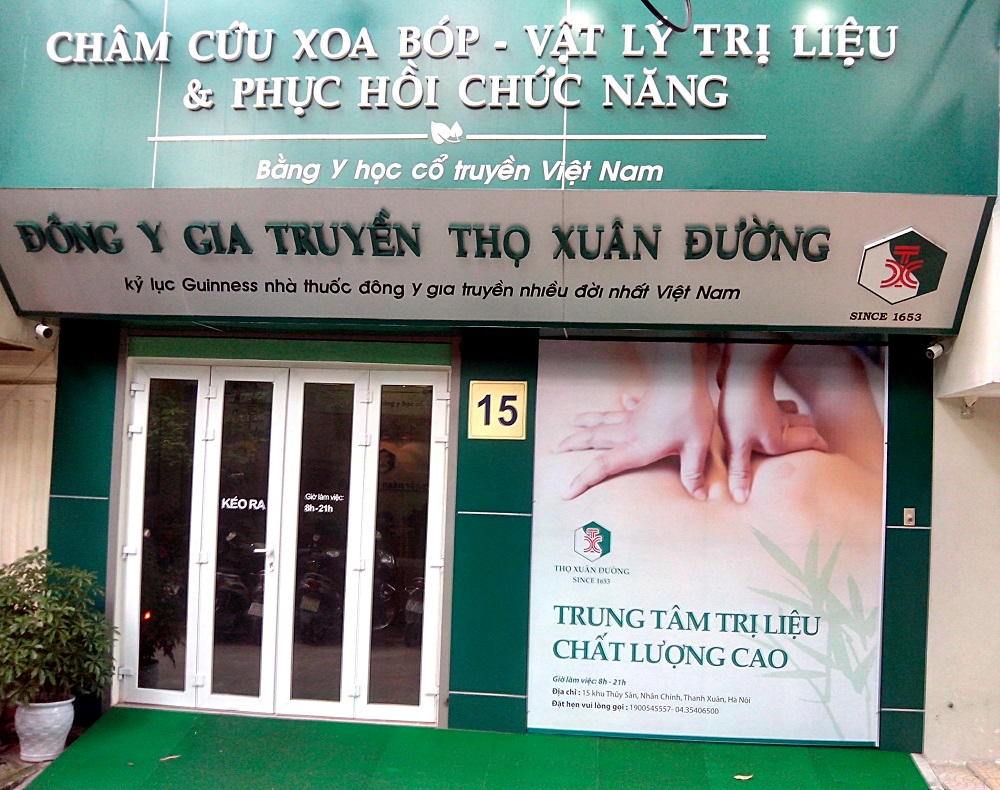 Tho Xuan Duong high-quality therapeutic center
In addition to applying the traditional experience on diagnosis and treatment method of pure Vietnamese medicine, Tho Xuan Duong also studies deeply on human body, on biological rule characteristics of body's parts, on environmental medicine as well as on existing mechanisms of pathogenic viruses and microbes in order to make up new medicine remedy from valuable and rare medicine. Apart from decoction medicine, Vietnamese medicine is also prepared in the form of pills, powders, lotions, pound medicine put in electric plug ... which are convenient for patients who are impossible to decoct medicine. Currently, the drugstore sells advantageous products of treatment such as: Xadoga 1 (support liver detocxification), Anti-U100 (help eliminate of free radicals, support cancer treatment), Ladacoll ointment (heal fire burns and ulcer for a long time, increase skin assimilation, heal scar), compressed pills to cure asthma, gastroenteritis, sinusitis... All products are crystallized by international cooperation and produced with copyright technology of UK and the United States.

For the purpose of having clean material for making up medicine proactively, Tho Xuan Duong harvested 4 areas of medicinal plants in Thuong Tin, Son Tay (Hanoi), Lao Cai and the Highlands with an area of dozens of hectares. All processes on dispensing and preparing medicine and the organization on growing medicinal plants are all implemented under strict procedures and regulations. We manufacture and circulate several traditional products of family registered Vietnamese brand nationwide under licence from the Ministry of Health.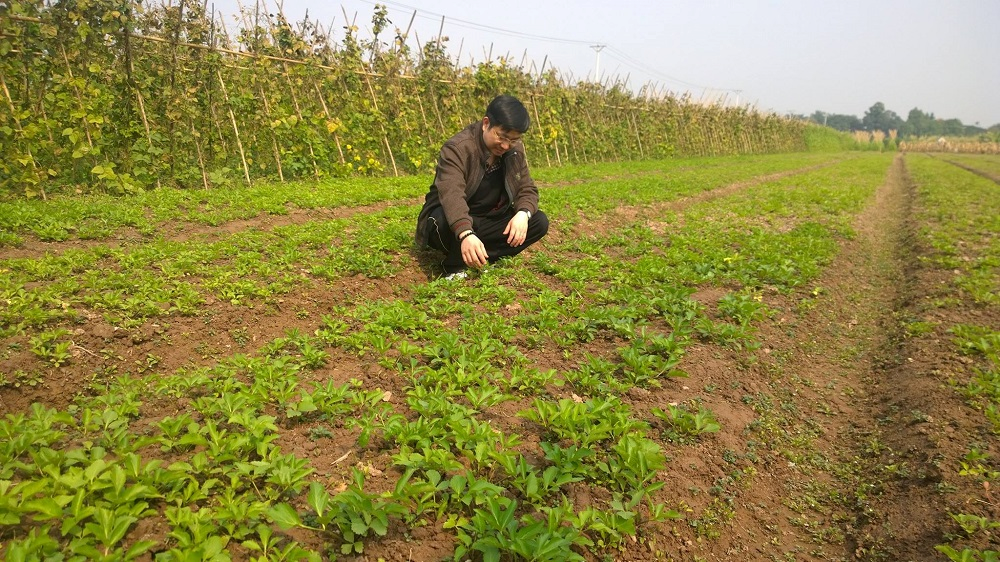 Clean material growing areas of Tho Xuan Duong drugstore

With all the effort for the goal of raising the diagnosis and treatment's efficiency, Tho Xuan Duong invested machinery equipments, means of advanced, modern and leading preclinical diagnosis such as: diagnostics and function exploratory machine DDFAO - PRO MEDISCAN M3D, ultrasound, computerized meridian measure machine... We use drug steam injection machine, drug pulsing machine, magnetic machine, multi-source treatment machine, stretching machine, spectrum light, ... to help find out disease early, and strengthen exercising and treatment timely for the patients.
Tho Xuan Duong drugstore alo use Korean drug preparing technology packaged in series. The drug is prepared with appropriate pressure, temperature and time ensuring the best quality. Optimal extraction of substances in medicine, non-volatile ensurance, drug flavor remaning and hygienic pharmaceutical standards are all elements that undoubtedly demonstrated. Medicine is packaged in a sterile environment with special packaging. That's the reason why the medicine can be kept in good condition and quality within 3 months. Additionally, we apply clean medicinal processing method without preservatives.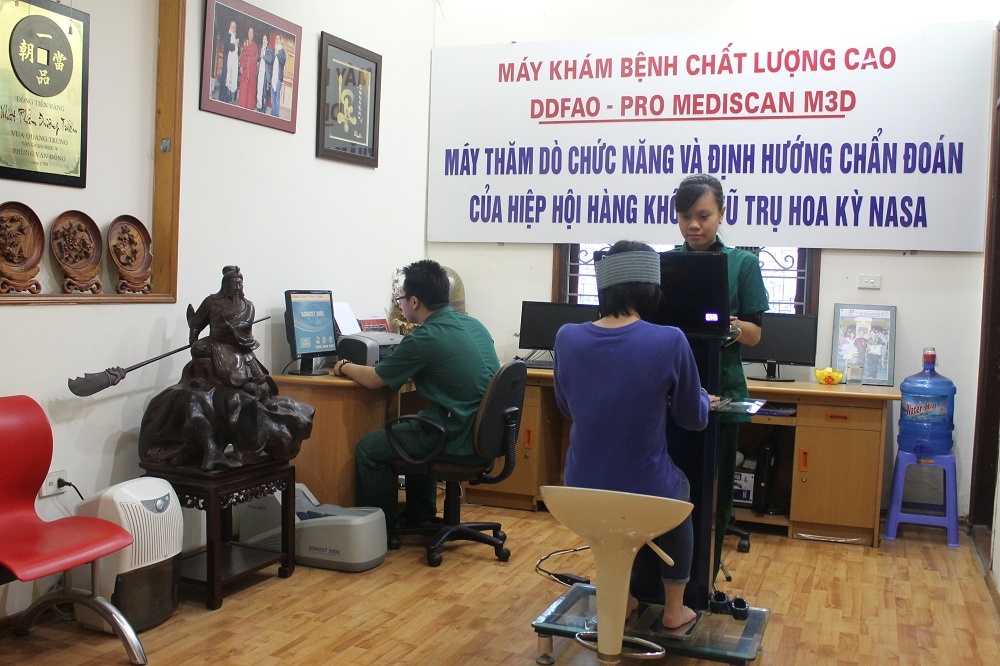 Diagnostics and function exploratory machine DDFAO - PRO MEDISCAN M3D

To share responsibility with the community through treatment and health programs for charity, Tho Xuan Duong annually participate constantly in charitable programs for community health, such as: organizing program on examining and treating free and giving presents for the elderly, veterans, women association, welfare beneficiary, poor families, single elderly and handicapped children. We also donate wheelchairs to the disabled, organize Tet program for the poor, donate drugs and money to nurturing support Centre, supporting for flood, charity funds, humanitarian heart surgery, house construction of gratitude, savings for Agent Orange victims and incurable diseases ... Total amounts for charity come to billions of Vietnam dong.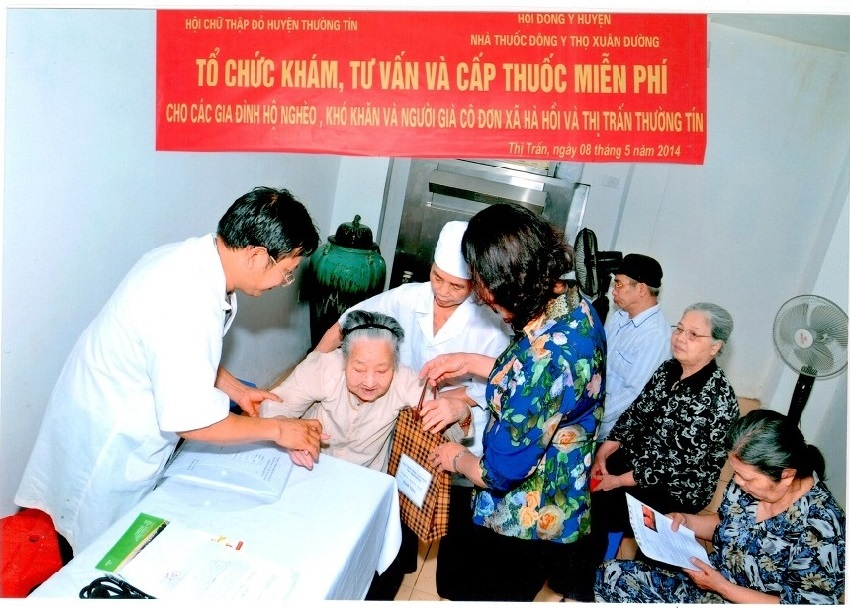 Tho Xuan Duong drugstore organized examinations, counseled and provided medicine free for the elderly and poor families

Contributing to honor Vietnamese medicine values internationally, up to now, Tho Xuan Duong handed down drugstore has examined and treated for more than 150,000 patients in 102 countries around the world. We also established a system of health expert consultants for foreigners, built website through the mass media, cooperated with India, China, South Korea, Japan, Switzerland, Canada, .. for mutual exchange to learn about the treatment methods by traditional medicine, and cooperated for technology on growing medicinal plants and extracting of natural compounds.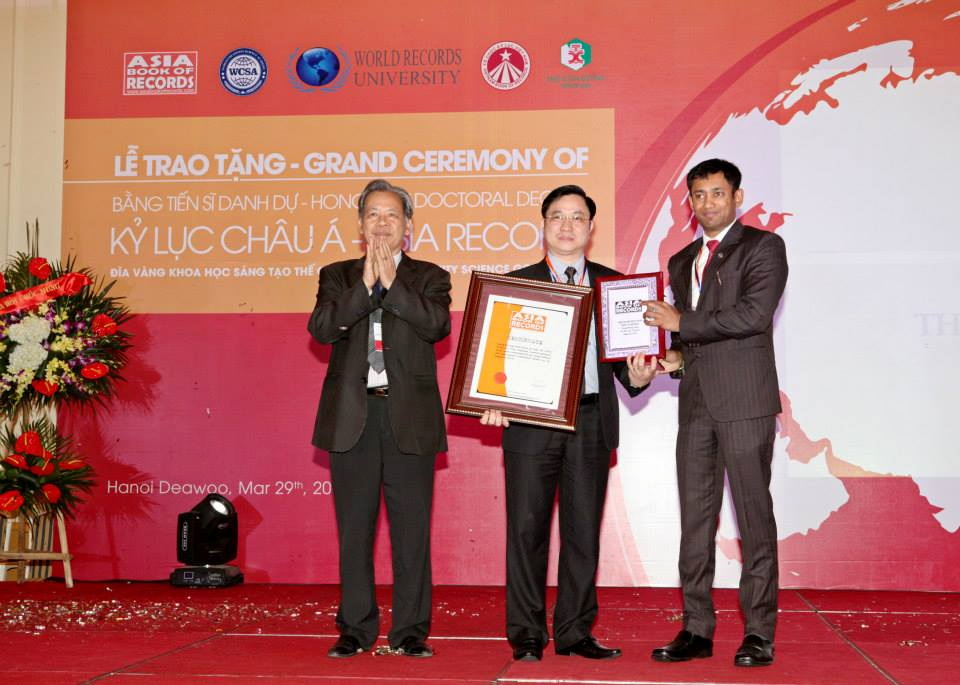 Asian book of records conferred on Herb doctor Tuan Giang Phung the hororary doctoral degree for "treating patients from most countries with Vietnamese medicine".
List of overseas patients treated in Tho Xuan Duong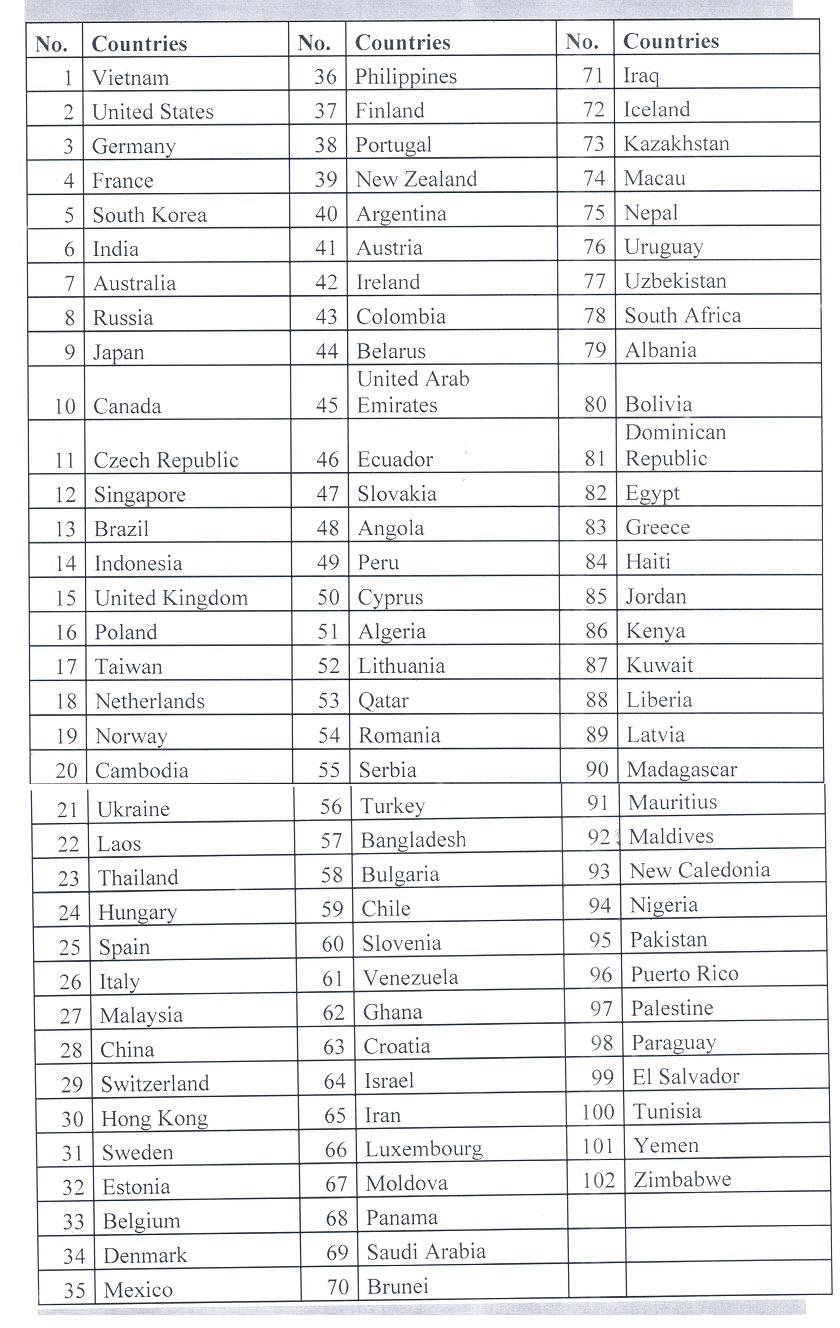 IV. Grand prizes and titles 
The uninterrupted efforts and valuable achievements of Tho Xuan Duong drugstore are recognized both internationally and particularly in Vietnam with a variety of honors such as "Guiness record- handed down drugstore to the most number of Genaration in Vietnam", super Cup for well-known brand name "preserving and protecting universal health," golden Cup on "Exellent doctor and Hai Thuong Lan Ong portrait," golden Cup "For the health of Vietnamese people", top 10 Southeast Asia prestigious brand name.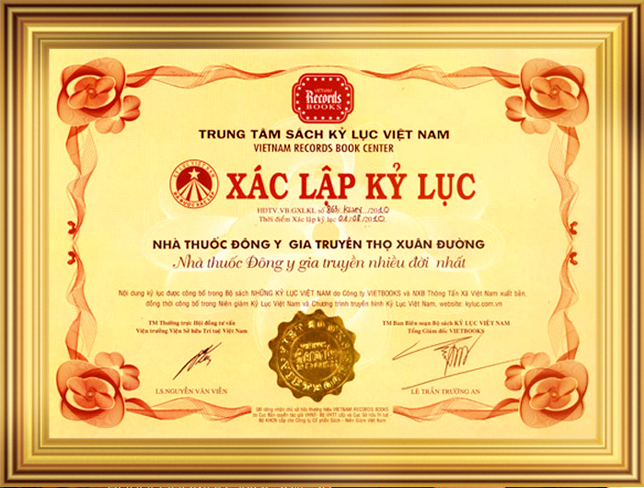 Grand prize and title of Tho Xuan Duong drugstore
Government Office and the Union of Vietnam Science and Technology Association conferred on herb doctor Tuan Giang Phung the badge and the title "Vietnamese herbalist demonstrates Uncle Ho's direction". He also was awarded the title "Hearts for Vietnamese's Health" by Minister of Health, Mr Nguyen Quoc Trieu. Especially, he was presented honorary doctoral Degree by Guinness World University, the golden disk for world creative science by the world creativity science Academy, the Guinness record "treated patients from most countries by Vietnamese medicine" with 102 countries in the world by the general director of the Asian Record Organization. Moreover, he had a chance to receive 4 international awards in India which include worldwide outstanding individual awards and global excellence award in heathcare.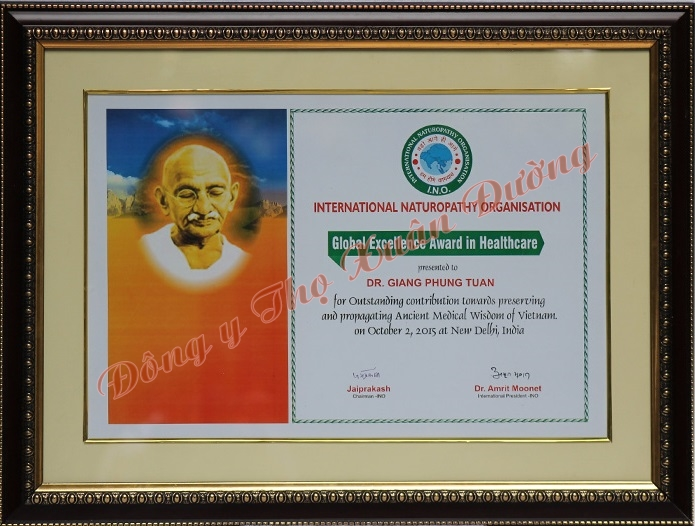 Global excellence award in heathcare
Besides the honor of receiving the above grand prizes and titles, the history of Vietnam traditional medicine and domestic and international newspapers also has recorded a long-standing tradition of Vietnamese medicine with nearly 400 years of Phung's family in Tho Am village, Lien Ninh commune, Thanh Tri District, Hanoi.
Published documents were:
• Oriental medicine magazine No 165/1981
• Hanoi Federation of Literary and Artistic No273/1992 
• Draft book of 1995 Vietnamese traditional herbal medicine
• Ha Tay magazine issued in the spring of 2000
• Report of Hanoi Telivision and Broadcasting Station in Sept 2008
• Family and social newspaper on Ky Suu 2009 issue
• Precious medicinal plants magazine on Feb 2009 issue
• Vn Express electronic newspaper published on July 9th 2009
• New world magazine in September 2009
• Hanoi Television report in January 2010
• Record magazine in November 2010 
• HITV television in May 2011
• Young knowledge newspaper on spring of January 2012 issue
• Vietnamese law newspaper major No 8 in February 2012
• Intellectual newspaper No 9 (644) issued on Thursday, March 1st 2012
• Law newspaper No 14 (295) issued on Saturday, September 1st 2012
• Young knowledge newspaper No 414-415-416 dated on Jan 15th 2013
• Intergrated magazine No 19-20 dated on Feb 1st 2013
• Valuable medicinal plant newspaper No 227 dated in May 2013
• Young knowledge newspaper No 429 dated on June 20th 2013
• Environment and health magazine no 233-234(354-355) dated in 2013
• Young knowledge newspaper No 438 dated on Sept 20th 2013
• Environment and health magazine No 243-244-245-246 dated on Nov 10th 2013• Great unity newspaper No 321 dated on Nov 17th 2013
• Community health newspaper No 5 dated Nov 6th 2013
• Law protection newspaper No 84-85-86-87(365-366-367-368) from Jan 18th to Feb 18th 2014
• Industry and trade newspaper No 13-14-15-16-17-18(693-698) dated from Jan 29th to Feb 11th 2014
• Family and social newspaper No 18 from May 3rd to May 9th 2014 
• Life and law newspaper No 39 dated from 23rd – 29th Sept 2014
• The informant - Publication of Life and Law newspaper – No 131 dated on Nov 1st 2014 
• Labour and life newspaper – Publication of labour newspaper - No 43 dated on Nov 12th 2014 
• Electronic newspaper of Vietnamnet – The article published on Nov 10th 2014
• Labour and social newspaper - social report column , No 155 dated on Dec 28th 2014 
• Sunday VOV newspaper - the article posted on March 29th 2015 
• World and Vietnam newspaper – N 13 from March 26th to April 1st 2015 
• Health and social newspaper – the organ of Ministry of Health – No 173, dated on October 30th 2015
With nearly 400 years of construction and development, Tho Xuan Duong traditional drugstore has pvoved its position and role in healthcare industry for people. Vietnamese medical industry is a profession including 3 best crirteria: in inheriting the ancestor's tradition, in making use of Vietnam's material and in treating for people with the lowest cost and most effectively.
Tho Xuan Duong drugstore will always improve medical ethnics and art of healing to be ready to serve the customers with all our love and responsibility to show our deep gratitude the ancestors who set up and left the descendants the great tradition. We wish that our contribution to caring and protecting people's health will be highly appreciated and satisfy customers.
Tho Xuan Duong drugstore wishes you and your family happniess and prosperity!
Herb doctor: Phung Tuan Giang